22. Richard Ramirez aka 'The Night Stalker'
On September 20, 1989, Ramirez was convicted of all charges: 13 counts of murder, 5 attempted murders, 11 sexual assaults, and 14 burglaries.[99] During the penalty phase of the trial, on November 7, 1989, he was sentenced to die in California's gas chamber. He stated to reporters after the death sentences, "Big deal. Death always went with the territory. See you in Disneyland." The trial cost $1.8 million, ($3.55 million in 2017 dollars) which at the time made it the most expensive in the history of California, until surpassed by the O. J. Simpson murder case in 1994.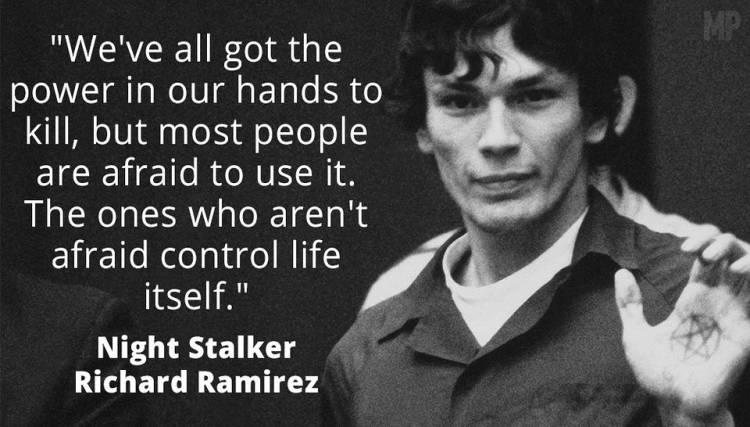 By the time of the trial, Ramirez had fans who were writing him letters and paying him visits. Beginning in 1985, Doreen Lioy wrote him nearly 75 letters during his incarceration. In 1988, he proposed to her, and on October 3, 1996, they were married in California's San Quentin State Prison. For many years before Ramirez's death, Lioy stated that she would commit suicide when Ramirez was executed. However, Lioy and Ramirez eventually separated. By some estimates, he would have been in his early seventies before his execution was carried out, due to the lengthy California appeals process. Ramirez died of complications secondary to B-cell lymphoma, at Marin General Hospital in Greenbrae, California, on June 7, 2013. He had also been affected by "chronic substance abuse and chronic hepatitis C viral infection". At 53 years old, he had been on death row for more than 23 years.