1. Arizona Cardinals - Blake Shelton
At one point in time, John McCain would have been considered the most notable Arizona Cardinals fan in all of the land. Unfortunately, McCain passed away in his hometown of Cornville, AZ in August of last year so, those honors have since then been passed to country singer/songwriter, Blake Shelton. The seven-time Grammy-nominated country artist isn't afraid of the big stage himself as he's faced a multitude of didn't adversities throughout his music career. However, he has come out on top as a multi-platinum selling musician and the soon to be spouse of the ever-so-beautiful Gwen Stefani who just so happens to be a musician herself.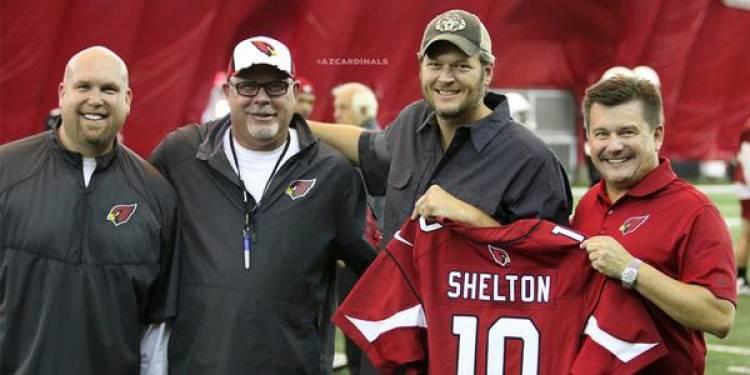 Unfortunately, for Shelton's Arizona Cardinals, the football organization performed the worst out of all 32 teams with a record of 3 wins and 13 losses but, luckily, will be granted the first pick of the 2019 NFL Draft. And despite his team's dismal performance, it didn't stop Shelton from showing up to team practices, attending games, and even receiving his own jersey from the franchise's executives. It takes guts to hold your team down through tough times but, Blake Shelton is loyal and it shows.