No Business Records Survived
Boggs went on to tell the story, saying, "Several years ago I was at a party (BRAG!), and I spotted a box of Triscuits. I asked everyone, 'What does the word 'Triscuit' mean? It's clearly based on the word 'BISCUIT,' but what does the 'TRI' mean?' (I'm great at parties.)" They all assumed that the tri meant "three," as in three layers or three ingredients. A Google search gave no answers.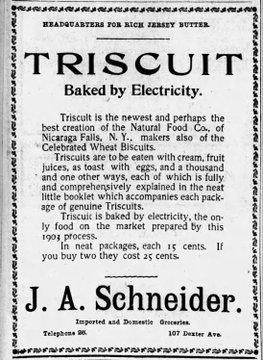 Boggs ended up reaching out to Nabisco to ask them, but their response was baffling. They said no business records survived, but they knew for sure that the Tri did not mean three. Boggs was shocked by this, tweeting, "Also, 'No business records survived'? What the HELL happened at the Triscuit factory? Did the building explode? Did someone run out of the doors and yell 'It doesn't mean THREE!' right before perishing in a giant blaze?"