Ashton Kutcher and Mila Kunis Launch Quarantine Wine to Support Covid Response
---
One of the world's greatest pastimes is consuming alcohol. It is something that young people wait 21 years to do, so no wonder people go gaga over drinking once they can. Having a beer with a friend, or even a stranger, can open up conversation and get the energy just right.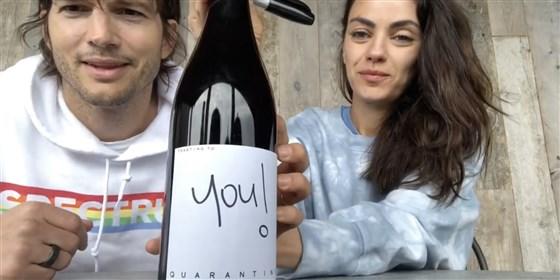 At the end of the day, alcohol is a comfort food. We seek comfort and normalcy when we drink alcohol, which is why people are flocking to it during the pandemic that has us worried as we are locked inside of our homes. Whether you just need something to calm your nerves, or you're on a Zoom happy hour, alcohol is there for you.
As much fun as a drink can be, it can also feel very selfish. That's where Mila Kunis and Ashton Kutcher come in. They are offering a solution to guilty drinking. They have recently released a quarantine wine. The best part is that 100% of the proceeds go to Covid-19 relief, so drink up!